Boating in Southern California
There's no doubt about it…Southern California is the place to have a boat. From enchanting and picturesque coastlines to top-notch cruising destinations to fun and cool events, SoCal has it all. Not convinced? Read on, and we're sure you'll find plenty to get excited about.
Cruising Destinations
Southern California is home to dozens of fantastic cruising destinations. Whether you're looking for a relaxing weekend getaway or a bigger adventure on your boat, you're sure to find the perfect spot for some sun, sand, and sealife.
Santa Barbara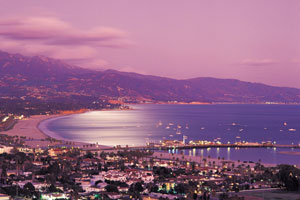 Santa Barbara, California, also known as the "American Riviera", is one of the most popular tourist destinations in California. Santa Barbara is known for its pristine beaches, wonderful Mediterranean climate and an amazing array of activities, shops, restaurants and culture. You're sure to see dolphins, sea lions, and other majestic sea creatures so bring your camera. Whether you're sailing up the coast and taking in the sites, or you choose to explore the town, enjoy some world-class dining, go shopping, hiking, or horseback riding, you're sure to have a memorable vacation!
From the City, you are just minutes away from the Santa Barbara wine country. The gorgeous Santa Ynez Valley, with its breath-taking vistas, is home to such notable attractions as Solvang and the Chumash Reservation.
Channel Islands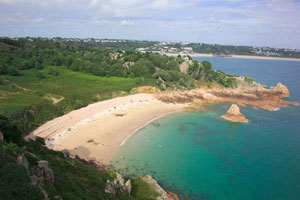 Close to the California mainland, yet worlds apart, Channel Islands National Park encompasses five remarkable islands (Anacapa, Santa Cruz, Santa Rosa, San Miguel, and Santa Barbara) and their ocean environment, preserving and protecting a wealth of natural and cultural resources. Isolation over thousands of years has created unique animals, plants, and archeological resources found nowhere else on Earth and helped preserve a place where visitors can experience coastal southern California as it once was.
The park bridges two biogeographical provinces, and in a remarkably small place, harbors the biologic diversity of nearly 2,500 miles of the North American coast. The Channel Islands and their encircling waters are home to over 2,000 plants and animals, of which 145 are found nowhere else in the world. Like the Galapagos Islands of South America, isolation has allowed evolution to proceed independently on the islands. Marine life ranges from microscopic plankton to the blue whale, the largest animal to live on earth. Archeological and cultural resources span a period of more than 10,000 years of human habitation.
Catalina Island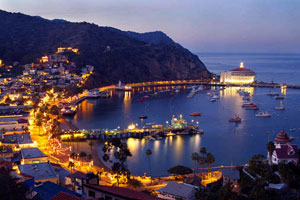 Catalina is an oasis of romance and adventure located off the Southern California coast, where the pressures of everyday life melt away, replaced by warm memories and cherished experiences. Sheltered from development and protected from urban sprawl, Catalina offers dramatic vistas and native flora and fauna, crystal clear waters teeming with marine life and sweeping vistas of rolling hills and cliffs. You'll find plenty of exciting and relaxing activities like snorkeling, kayaking, scuba diving, and more.
The charming city of Avalon, the Island's only city, provides fine dining, shopping and day spas along with bed & breakfasts and boutique hotels. If you're interested in venturing a little further, the rustic village of Two harbors hosts campers and boaters among its lucky guests.
Coronados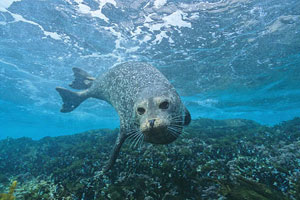 The Coronado Islands never fail to evoke feelings of awe and amazement. A chain of four islands located just 15 miles South of San Diego, "Los Coronados" are protected by the Mexican Government as a nature preserve for migratory sea birds, marine mammals and the myriad of marine life found there.
The islands are a geologic wonder with natural bridges, sea caves and pristine crystal clear waters that are host to one of the most abundant marine eco-systems in the region. These islands have also enjoyed a rich and colorful history from harboring 18th & 19th century pirates to housing a prohibition era casino and bootlegging operations.
Explore the islands' rugged coastline and secluded coves, and take in the marine life like dolphins, harbor seals, sea lions, elephant seals, gray whales, and more. Keep in mind, you aren't allowed to actual venture ashore, but you're sure to find plenty of fun things to do along the coastline.
Ensenada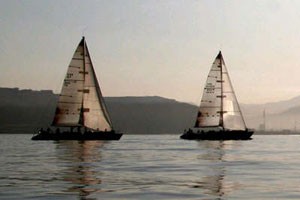 In Ensenada, only 80 miles south of San Diego, travelers can get a taste of Mexican food, culture and nightlife. Californians flock to this beautiful seaport town, one of the largest on the Baja peninsula, for rest, relaxation and excellent outdoor recreation activities. From surfing and sea kayaking to horseback riding and mountain biking, even the most discerning sportsperson will be impressed. Ensenada's nightlife is also a big draw. Papas and Beer and Hussong's Cantina serve up an on-going party atmosphere and lots of tequila, while nearby vineyards offer wine tasting in a more traditional and serene setting. Nature enthusiasts are wowed by the sight of gray whales and the underwater cave that randomly squirts water at onlookers. Whatever your interests, enchanting Ensenada will not disappoint.
Cabo San Lucas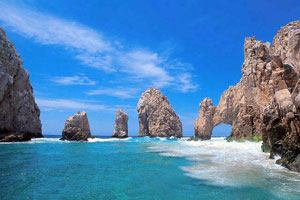 Originally a hiding place for English pirates, Cabo San Lucas found fame when John Steinbeck wrote "Log from the Sea of Cortez." Shortly after, Cabo's "Marlin Alley" became a celebrity favorite for big-game fishing. Today, it is one of Mexico's prime resort destinations.
Located on the Baja Peninsula, Cabo is still known for fishing, but it's also gaining a reputation for its stunning scenery, near-perfect weather, golfing, water sports, underwater nature preserve, whale watching and nightlife.
Sea of Cortez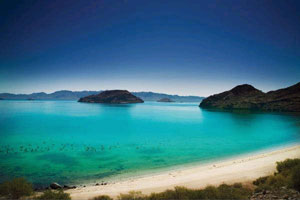 Described by Jacques Cousteau as "the worlds aquarium", the Sea of Cortez is among the top places in the world to dive—you're sure to be amazed by the variety and sheer quantity of marine life encountered surrounding the reefs there..
The Sea of Cortez is home to almost 900 species of fish. It is one of the most ecologically intact marine ecosystems in the world. There is 34% of all marine mammal species, one third of all the worlds dolphin and whale species and a great diversity of macro invertebrates.
Desert cactii dot the sheer rock faces that descend into the blue of some of the most biodiverse waters in North America. Underwater topography is a mixture of sandy slopes dropping off to rocky walls, pinnacles with sheer sides that break the surface, oceanic seamounts and the most northernly coral reef ecosytem in the tropical western pacific.
List of Marinas & Yacht Clubs in Southern California by Region
Looking for local information on marinas, harbors and yacht clubs in Southern California? You're in the right spot. Click the links below for information on boating info by region.
Ian's Rolodex of Marine Companies
Whether you're looking for a captain, a detailer, or someone to repair your gel coat, you've come to the right spot. Below is Ian's rolodex of helpful boating contacts and resources. We hope you find it informative! If there's something you can't find, contact Ian and he'll point you in the right direction.
Attorney–Maritime
Attorney Paul S. Trusso
1-619-226-2628
paul@offshoredelivery.net
1050 Rosecrans St. Suite 4
San Diego, CA 92106
Boat Yards: San Diego
Shelter Island Boatyard
1-619-222-0481 office
1-619-540-9800
2330-1 Shelter Island dr
San Diego, CA 92106Marina del Rey
The Boat Yard 1-310-823-8964
Windward Yacht Center 1-310-823-4581
Newport Beach
BellPort Newport Harbor Shipyard
151 Shipyard Way, Suite 5
Newport Beach, CA 92663
T: 949.723.6800 F: 949.723.6808
dperches@bellportgroup.com
Oxnard
BellPort Anacapa Marine Services
3203 S Victoria
Oxnard, CA 93035
T: 805.985.1818 F: 805.985.5357
ams@bellportgroup.com
Canvas for Boats
Memo's Custom Canvas
Memo Gutierrez
1-619-971-0605 cell
1-619-427-0605 office
memoscanvas@hotmail.com
Captains for Training or Delivery
Terry Willis
USCG 100ton Master
1-619-972-5662
Assen Alexandrov
IMO Licensed Master
1-858-531-4788
deliveryyacht@yahoo.com
Nikolay Alexandrov
USCG Licensed Master/ASA sailing instructor
1-858-531-1175 cell
deliveryboat@yahoo.com
Peter Winslow
USCG Licensed
1-619-384-5991
W.C Young
USCG Licensed Master/ASA sailing instructor
1-619-254-3748
Carpet & Upholstery cleaning and installation
Sanchez Carpet
Tony Sanchez
1-619-588-5253
Divers Bottom cleaning & Zinc replacement
San Diego Diving Services
Alex
1-619-226-1900
Aquarius Diving services
Bill Racco
1-619-222-4147
Omni Precision diving
Bruce
1-619-733-6664
Documentation–Maritime Documentation Services
Dona Jenkins
1-619-223-2279 office
info@donajenkins.com
1050 Rosecrans St. Suite 3
San Diego, CA 92106
Engine Service
Pac West Engine
Elias
1-619-222-0475
Sea Lube
John
1-619-888-1876
Quality Marine services
Alfredo Neri
1-858-483-7715 cell
Financing Services
Scott Financial Services
Terry Maxwell
1-949-363-0483 office
1-949-374-9787 cell
Terry.maxwell@scottloans.com
Gel coat or repair
West Coast Gelcoat
Timothy Boyle
1-619-823-6182
catimboyle@yahoo.com
Graphics for Boats
Graphix Group Inc,
Tom Nutter
1-619-222-5891
tom@graphixgroup.net
2810 Canon Street
San Diego, CA 92106
Insurance services
Oversea Insurance agency, Inc
Nicky Mayer
1-619-222-1111
nicky@overseainsurance.com
Painting or repair of painted hulls
JAG Painting
Steve
1-619-339-1882 cell
1-619-525-3256 office
2330-162
Shelter Island Drive
San Diego, CA 92106
Refinishing for Yachts
Miguel Hernandez
1-619-223-6651 office
2390 Shelter Island dr
San Diego, CA 92106
Repairs–Marine Glass & Window
Orlando Sherwood
1-619-878-4074
marineglass@aol.com
Sails and Repair
Ullman Sails
Chuck Skewes
1-619-871-2171 cell
1-619-226-1133 office
chuck@ullmansailssd.com
2805 Canon Street
San Diego, CA 92106
North Sails
Jon Gardner
1-619-224-2424 office
jon@sales.northsails.com
UK-Halsey
Brad Poulos
1-619-226-2131 office
1-760-525-4341 cell
brad@uksocal.com
1053 Rosecrans Street
San Diego, CA 92106
Service / installation
Mike Van Tuyl / Cruising Yachts
1-619-681-0633 office
1-619-417-7015 cell
mikevt@cruisingyachts.net
Beau Kinley / Alltech yacht solutions
1-760-586-2508 cell
beau@alltechys.com
Gary Kowal / Horizon Marine
1-619-702-8500
horizonmarine@hotmail.com
Surveyors
Bob Smith
1-619-850-7521
cabokidz@san.rr.com
W.C Young
1-619-254-3748
Upholstery for Boats
Javier Lopez
1-619-465-3562 office
1-619-933-3562 cell
Patsy Carter
1-619-222-5202 office
1-619-895-8487 cell
pcarterdesign@sbcglobal.net
Welding & Fabrication
Thomas Marine
Brian Thomas
1-619-224-5220
2835 Canon Street
San Diego, CA 92106
Wood Working
Furgeson Woodworking
Shane Furgeson
1-619-884-6474 cell
Yacht Doctor
Randy
1-619-223-9190