Jeanneau Leader 40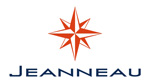 LEADER 40 open and sportop versions : discover these new models now !
High performance and contemporary design best define the personality of the new Leader 40. Luxurious details are found throughout the refined, contemporary interior of the Leader 40. There is true harmony in the perfectly balanced interior volumes and living spaces.
Designed by the most talented naval architects, the Leader 40 features the very best contemporary design influences.
| | |
| --- | --- |
| Length overall | 12.33 m / 40'5″ |
| Hull length | 10.98 m / 36′ |
| Hull beam | 3.8 m / 12'5″ |
| Light displacement | 7531 kg / 16603 lbs |
| Standard keel draught | 1.1 m / 3'7″ |
| Fuel capacity* | 2 x 362 L / 2 x 96 US Gal |
| Water capacity | 250 L / 66 US Gal |
| Cabins | 2 |
| Motor | Volvo 2 x D4-300 DP (2 x 300 Cv / Hp) |
| | Volvo 2 x D6-370 DP (2 x 370 Cv / Hp) |
| | Mercruiser 2 x 8.2L MAG BRAVO3XR (2 x 380 Cv / Hp) |
| CE Category | B10 / C12 |
View an Interactive Brochure View Additional Photos & Details
Email Us Now
Jeanneau – The Timelessness of Beauty
Our total quality control system tracks a product through the entire production process and beyond. From laboratory tests of each batch of resin to tank testing to customer satisfaction questionnaires and frequent supplier reviews, we continually seek ways to improve our boats.
The Technology of Beauty
The strength of Jeanneau can be seen in the beauty of our boats. World-renowned designers and architects work with our in-house teams from the inception of each project and provide their expertise and innovative ideas. The result of this partnership: captivating and inspiring designs that stand the test of time.
The Enjoyment of Beauty
At Jeanneau, we know that delivering excellent boats is only the beginning; excellent customer service must follow. When you purchase a Jeanneau you become part of our family.
Performance
A Jeanneau must be responsive, agile and fast. Performance encompasses not only speed but exceptional handling under power, smooth passage through heavy seas, confidence and control. Every experience onboard a Jeanneau is enhanced by our well-balanced sail plans, modern hulls, high-end sails and quality deck hardware.
Dependability
Quality starts with the best materials and components. Aboard a Jeanneau you will find equipment from the leaders in each field, because we only use suppliers that share our commitment to quality control and product excellence. These premium suppliers also help ensure servicing of your boat's components world-wide.
Safety
Peace of mind is part of the Jeanneau experience, which is why safety is standard. We conduct extensive finite element analysis of our structural systems, design secure handholds throughout, utilize large hatches that double as emergency egress routes, and only use the highest quality deck fittings. This helps create the legendary Jeanneau seaworthiness that comes with 50 years of experience in building offshore boats.
ISO 9001
As an ISO 9001 company, the Jeanneau's building process is certified to the highest international standards. Each new sailboat is thoroughly tested throughout the building process and each receives additional tank testing where all systems are put through their paces.